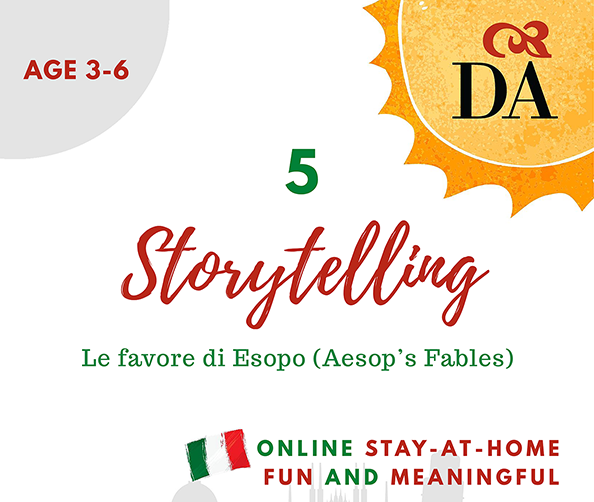 C'era una volta…
(Once upon a time…)
In ancient Greece, Aesop, or Esopo in Italian, was a Greek storyteller and had numerous fables, well-known as Aesop's Fables and now translated in many different languages. Many of the tales contain hidden messages of morality and are good lessons for children.
Aesop's Fables (Le favole di Esopo) are also famous in Italy and every kid knows the fables. Come and join us!
Date
Thursday, from 9 Jul 16 Jul to 27 Aug 2020
Time
9:00 – 10:00 AM
Fee
$1,200 / $960 (DA students)
$1050 / $840 (DA students)
Mode of instruction
Online via ZOOM
Objectives
Upon completion of the course, children will be able:
to experience different cultures
to understand how wisdom is common to all people and cultures
to explore new ideas
to arise their interests in different languages
to increase their willingness to communicate thoughts and feelings
to enhance listening skills
to be encouraged to use imagination and creativity
to understand some Italian words
Contents
Eight fables in Italian from "Le favole di Esopo"
Structure
Eight lessons, 1 hour per lesson
Language Medium
Italian and English
Target
No prior knowledge of Italian. Age 3 to 6
Class size
Maximum 10 students
Award of Certificate
Student who has maintained a minimum of 80% attendance of the course will be awarded a "Certificate of attendance"
Conductor
Ms Francesca Coppeta has been teaching Italian for children in our school for more than 4 years. She is patient with young learners and uses simple and vivid language that children can easily understand.
Enquiries
Please call us at 2832 9799 or email us at dantealighieri@ladante.cc.
Registration
Click here